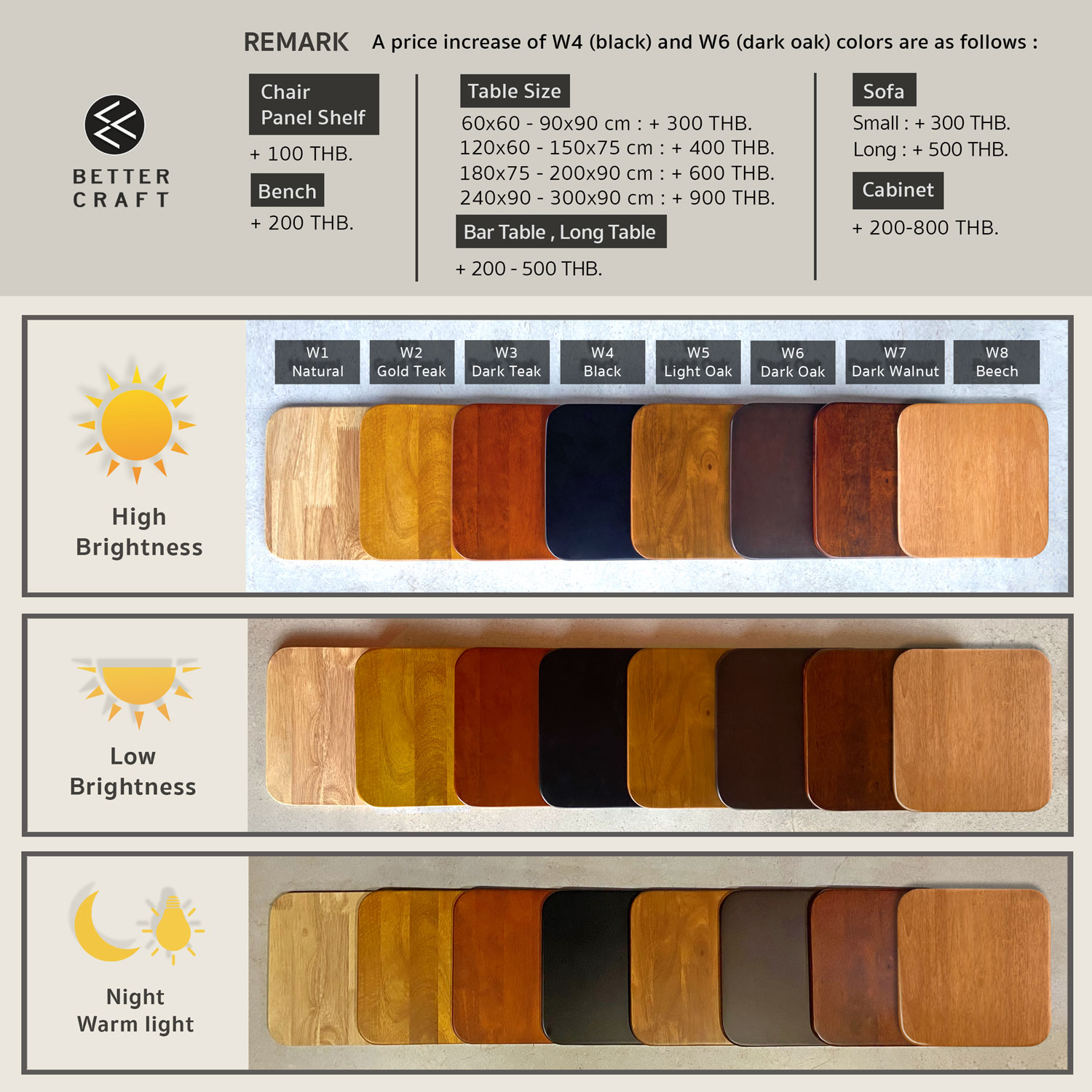 Our company uses wood splinter dyeing and 5 layers of PU paint coating, which is one of the steps that we use and especially emphasize as it is essential to protect the wood and increase the service life longer (splinter dyeing and PU paint are usually only used for export due to higher cost than usual.)
(If you choose W4 Black or W6 Dark Oak, there will be a slight extra charge from the catalog.)
The charm of soft tones of genuine wood is an obvious texture like tree bark and tree knar. This can't be found in artificial wood.
Furthermore, the process of making black (W4) and dark oak (W6) tones of genuine wood is tougher than other tones. They tend to show the most obvious wooden texture which can cause a small numbers pigment spot.
Mood and Tone
W1 Natural colors
Provide warmth and comfort for the eyes, commonly used in minimalist home decor and Scandinavian style.
W2 Golden teak color
Provide luxury, add value, and make the atmosphere in the house look classy.
W3 Dark teak color
Suitable for Loft style, often focusing on contrasting with light-colored walls or bare concrete walls to add strength and prominence.
W4 Black color
Often used in modern decorations to feel cool and have an identity.
W5 Light oak color
Provide both a warm and luxurious feeling, control tone, and perfect for any style.
W6 Dark oak color
Provide a feeling of stability, prudence, and firmness, and contrast perfectly with the light tone of the house.
W7 Dark Walnut color
Provide a feeling of value, classic, vintage in the identity of craft work.
W8 Beech color
Provide warmth Cosy, gentle, comfortable feeling.
Our company has selected high-quality and long-service-life upholstery materials in both artificial leather and fabric.
(If you choose fabric upholstery, there will be a slight extra charge from the catalog.)
PVC, Benz leather pattern
is synthetic plastic. The touch is a little thick, sticky, flexible, and waterproof, not easy to break or fall off.
Premium PU
will be synthetic to have a softness close to genuine leather, flexible, and patterned like real leather. The skin is softer than PVC leather.
Artificial elephant leather pattern
is PU mixed with cotton. There are 3 layers, and the texture is soft and similar to fabric. The pattern of the leather is clear and detailed. It looks close to the genuine leather pattern, has good heat dissipation, but is not waterproof.
Velvet fabric's texture
is soft, ultra slippery, good heat dissipation, but is not waterproof. The fabric is not flaky and loose.
Woven fabric
has a texture that is more comfortable than leather and is unique. However, it also has a soft feel and good heat dissipation.
Our company focuses on rust prevention, the thickness of the paint, and long service life.
(If you choose a special type of steel, there will be a slight extra charge from the catalog.)
Powder Coat color
or powder color is opaque. We choose 80% matt and 20% gloss. The paint texture is thick, strong, durable, and anti-rust.
Special spray paint
is opaque, 60% matt, 40% gloss, and multi-layer spraying from the basis until the last step. It is varnishing, strong, durable, and anti-rust and can only be used inside.